We summarize his time in Barcelona and his new destination with Tannus
INTRODUCTION
After stopping briefly her trips, Maty came back home to reunite with his friends and Family in San Juan (Argentina). There was a lot to talk about and it is that this bike traveler in Barcelona has earned the nickname of Angel. We leave a entry dedicated to her big achievements. Here
BACK TO ACTION
Last 26 of July, the Sanjuanino cycloviajero resumed his new adventure, crossing by boat the UK, once he arrived, to the bicycle trip where he feels more comfortable (Maty as many others felt sick on the boat).
Little by little he had to strike-through each country passing through Wales, Ireland, Holland, Germany, France until finally reaching Spain.
THE REUNION
October 11 was the scheduled date, Maty arrived in Barcelona, ​​it was time to catch up and equip him with new Tannus material.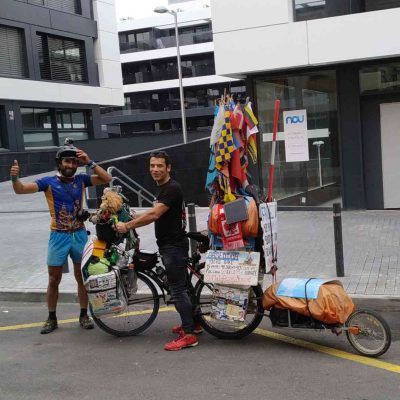 After a little accident that you can watch on our IGTV and Youtube, channel, we changed our front tire with a new one, we changed the Tannus and added a small trailer. To travel this many kilometers with the "house" it is necessary strenght and also a lot of skills. Maty used the Razorblade model and indicated each country that he passed by as you can see on the following post. We will safe him a special place.
Once the bicycle was equipped, we equipped Maty with our cycling jersey Tannus x Gobik and T.shirt Tannus Armour, which it uses on the rear wheel.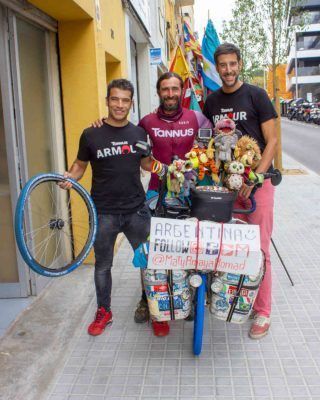 RADIO
After spending a fantastic day with Maty, we planned an interview for the Outdoors radio show, hosted and directed by Tannus Rider,Meche Barragán on Radio Kanal Barcelona (106.9fm). If you missed the episode, you can listen to it now on Podcast.
A NEW DESTINATION
Maty will be in Barcelona until October 22, then heading south along the Spanish coast towards… We let you discover it yourself!
Instagram/MatyamayanomadFacebook/Matyaamayaporelmundo
Don't forget to follow us on our social profiles to keep up to date with the latest news!
Tannus Tires Instagram: https://www.instagram.com/tannus_tires
Tannus Armour Instagram: https://www.instagram.com/tannus_armour
Tannus Tires Facebook: https://www.facebook.com/tannustires
Tannus Tires Twitter: https://twitter.com/tannustires